Alerts for Gold & Brent WTI Oil
The only and best online signal trading system for oil trading (WTI, BRENT) and Gold, which gives buy and sell signals, and also shows stop loss and take profit. No intersections of dozens of indicators, fortune telling on the grounds of the coffee and self-suggestion! Only ready-to-eat Alerts :) Do not redraw, do not make mistakes, do not scalping, suitable for any broker with a spread of up to 4 cents per 1 barrel. It operates on the WTI Oil Market (Texas light sweet brand and Brent Oil brand). Tested on real trading by dozens of traders !!!
Work time from 8 am to 22 pm by Europenian time
Sends alerts to Telegram & Metatrader 4
Working for Gold XAUUSD, Oil WTI, BRENT, EURUSD markets
Every day makes about 2-4 alerts
Profitability 85%
Sends alerts to Telegram
The trading system for Gold and Oil (WTI, BRENT) sends signals to you in Telegram on Andorid or iOS. You will receive alerts on your mobile, PC and laptop. This will allow you not to sit all day at the monitor, and respond to alerts when they appear.
2. Increased capital on Gold and Oil alerts
Let's look at the results of the trading system. Increased capital all in one week by 6 times! Starting deposit $100, total profit $500. Let's look at the screen below with oil and gold deals.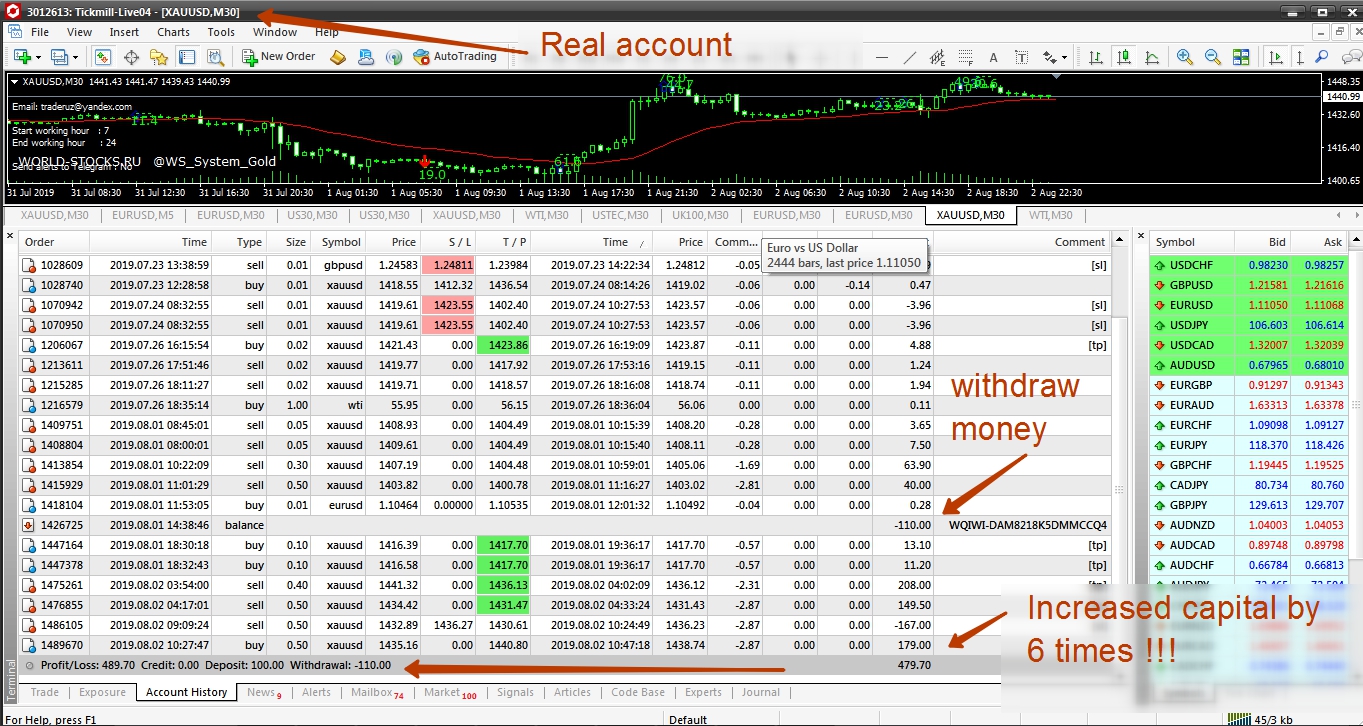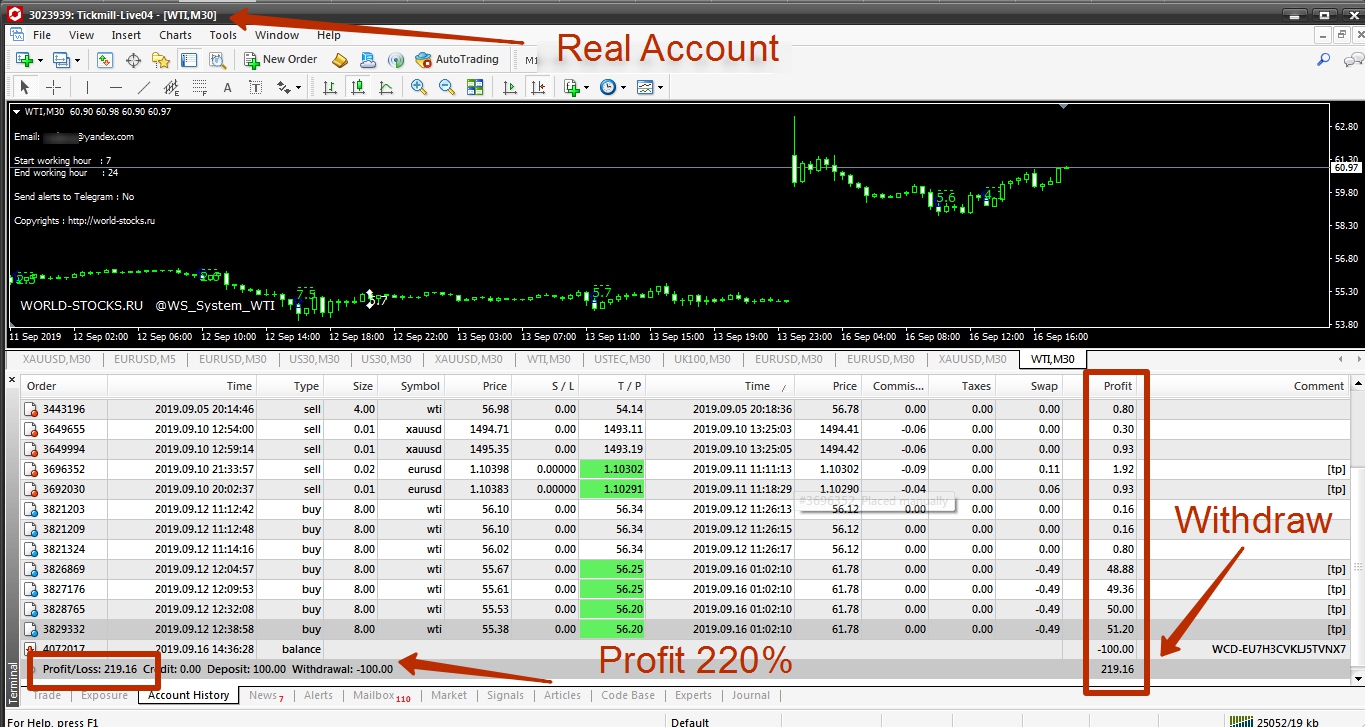 Install manual
Installs like any other trade system. The files are copied to the /Indicators/@WS_Systems/ folder, the template to run in the /templates folder is done. Open the chart with WTI Oil (Gold, EURUSD), right-click the corresponding trading system template, for example, "ws_wti.tpl" and get a ready-made tool for earning for every day!
Let's see what the alerts look like in the image below. On the screen we see for 1 week the system issued 11 signals, and in 9 cases out of 11 predicted take profits have been worked out.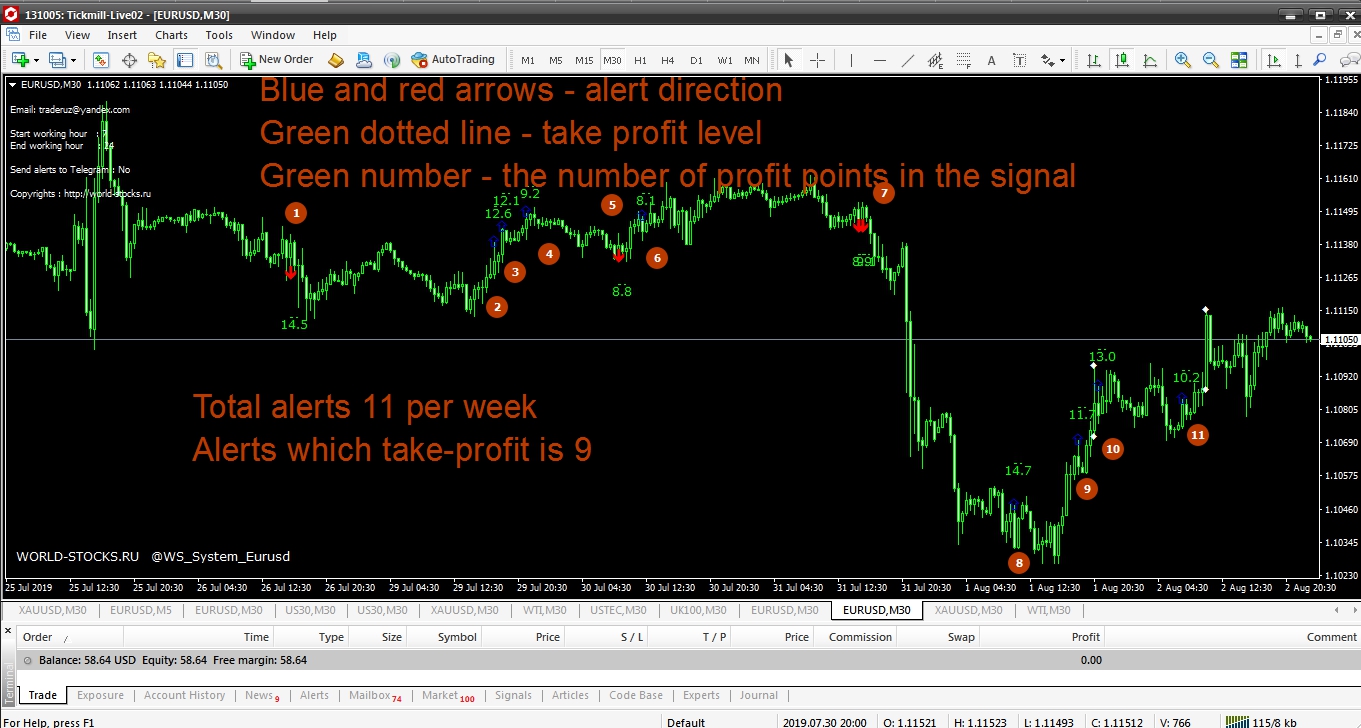 Red and blue arrows indicate the level and direction of entry. Green dotted line level for take profit. The green number near the line is the number of profit points expected in this signal.
Now let's see our deals on these signals on the next slide.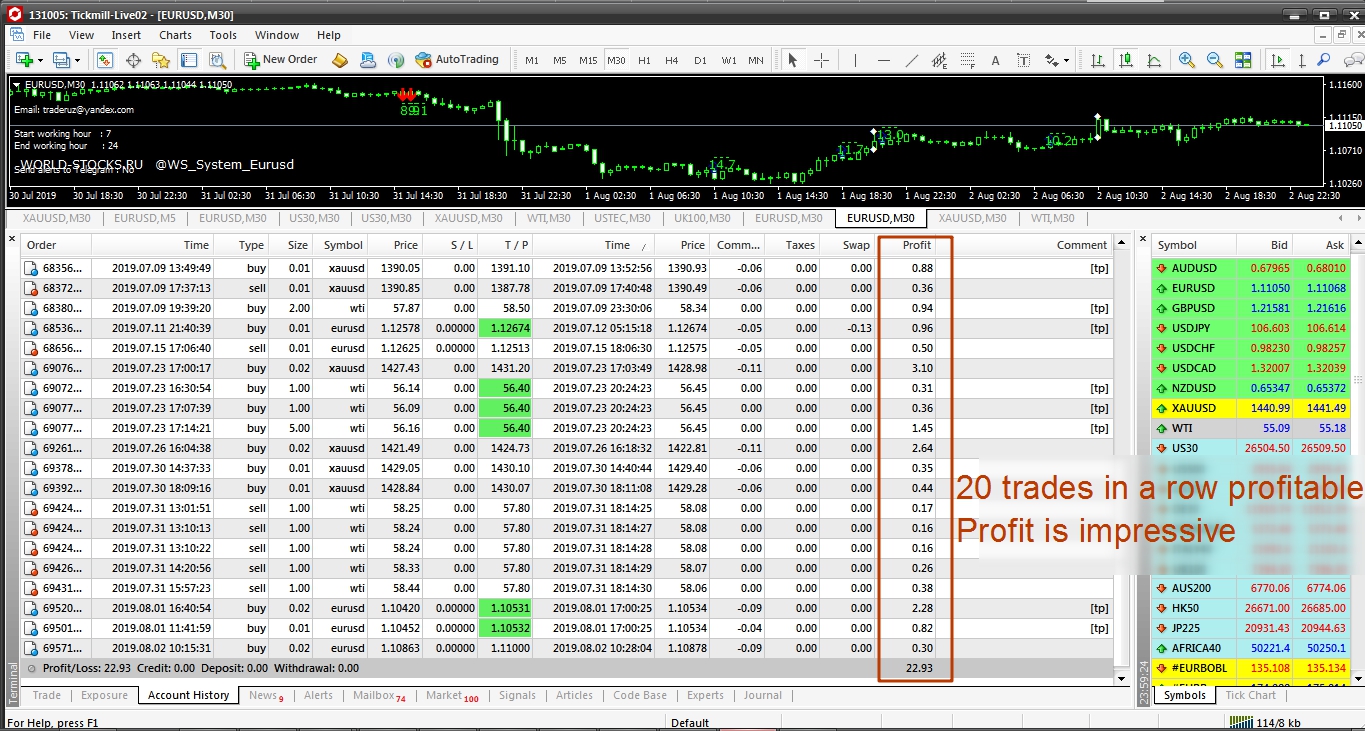 As you can see, we have conducted more than 20 transactions, and ABSOLUTELY everything is closed in profit and not small. With a pledge of 0.5 $ per barrel, a closed profit of 20-50 cents. This is even more forex profitability!
The principle of the system
The system issues an alert and 2 entry points (white dots on the chart). At this moment, a signal is sent to Telegram (Android, iOS, PC application). When, any of the points work, the signal becomes active and the system draws a red (blue) arrow, take profit and stop loss levels for the signal. Further, you just have to wait until the profit rises and fix it.
Warranties
The guarantee for the full operation of the system and profit, subject to simple rules.
Install and configure the system in your terminal using the Team-viewer.
We conduct consultations, fully explain how to enter, where to stop loss, where to take profit.